LIRA MELTDOWN
Currency Most Exposed to the Lira Meltdown Goes From Hero to Zero
By Natasha Doff
The week Georgia marked a decade since its war with Russia, it found its currency under assault from the neighbor to the south.
Market turmoil in Turkey helped wipe out gains for Georgia's lari, which until early August was this year's best performer globally. Within days, it was swept up in Turkey's currency crisis as investors bet that the former Soviet nation would need to adjust to stay competitive with its biggest trading partner.
Just over the past week, the lari has slumped about 6 percent against the dollar, pushing it into a loss for the year. To make matters worse, the Black Sea nation's second-largest trading partner is Russia, which suffered a currency beating of its own this month after the latest U.S. sanctions and the threat of more to come.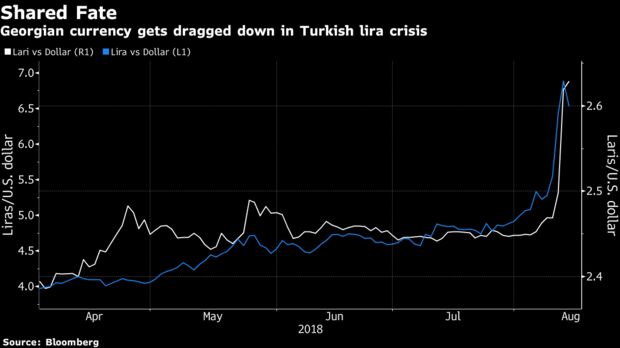 "Strong market fundamentals made the Georgian lari immune from contagion in the regional currency selloff until early August 2018," analysts at Galt & Taggart Research including Eva Bochorishvili said in a note. "This adjustment means that lari has actually corrected against major currencies, preserving its competitiveness."
The reversal of fortunes for the lari is yet more evidence of spillovers from this month's Turkish lira meltdown, which has already weighed on markets from the euro area to Latin America. Other nations in the southern reaches of the former Soviet Union have also been hit by the twin routs in Russia and Turkey, with the Kazakh tenge plunging more than 4 percent this month, and Azerbaijan coming under pressure to loosen control over its currency.
Russia fought a brief war with Georgia in August 2008 over the breakaway Georgian regions of Abkhazia and South Ossetia. It then recognized the two territories as independent states, though they're still regarded as part of Georgia under international law.
The Georgian currency could weaken to around 2.7 versus the dollar by the end of the year, from 2.62 now, according to Galt & Taggart. But pressure might subside toward the end of the month depending on tourism inflows and import performance, the analysts said.
https://www.bloomberg.com/news/articles/2018-08-14/currency-most-exposed-to-turkey-meltdown-swept-from-hero-to-zero